Dave Ramsey has helped thousands of people around the world through the 7 Baby Steps for financial peace and freedom.
The process works.
His book titled the Total Money Makeover has had some impressive sales numbers. The book has sold over 5 million copies and has been on the Wall Street Journal Best-Selling list for over 500 weeks. (That data is from August 2017, over 4 years ago, so it's sold more by now.)
So, we know that the 7 Baby Steps work. There's a lot to love above the process, and we will address 4 of those attributes here. We will also cover 4 things that we think could be updated this year (as it has been almost 30 years since the Baby Steps were created).
Quick Navigation
7 Baby Steps really do work. There are three great reasons why the plan actual works:
a. The Baby Steps Force You To Get Gazelle Intense When It Comes To Paying Off Debt
I'll mention this later, but I really appreciate that Dave Ramsey keeps the emergency fund smaller to force you to be gazelle intense. Having such a small emergency fund of $1000 really does force you to get out of debt faster because having too much money in the bank can cause you to stagnate.
b. Dave Strongly Encourages Your Behavior Modification
Too many financial gurus don't give it to you straight. They may tell you that you need to invest in real estate or cryptocurrency. It often feels like a lie that you can achieve financial freedom without putting in a lot of work.
Dave Ramsey comes off as blunt many times, but he forces people to confront that the debt is often our fault (with some exceptions). His bluntness, along with the Baby Steps, forces you to self-reflect.
c. The Plan Is Simple And Shows How You Need To Focus On One Step At A Time
I'll mention this more below, but it's evident that his focused intensity on the Baby Steps plan helps you stay focused on the task. You complete the first 3 steps consecutively and the following 4 steps concurrently in a prioritized order.
You don't have to multitask. Also, you don't need to think about another step. You just need to focus on the step at hand.
2) Dave Ramsey Is Right That You Need A Plan
Dave Ramsey has many helpful quotes. One of my favorite of Dave Ramsey's quotes is, "You must plan your work and then work your plan".
Too often we go through life without a plan, but we expect that everything is going to work out just fine. I remember the first time I budgeted. I thought that I spent a certain amount of money on eating out each month, only to realize that number was much higher.
We need plans. It could be a debt payoff plan to stay on top of your debt. It could also be a budget to understand your income and expenses. Or it could be a plan to pay off your home early as per Baby Step 6.
Dave Ramsey understood that which is why the Baby Steps plan is so useful. You stick to the plan and you get out of debt. Voila.
3) The Baby Steps Get Progressively More Challenging
One thing I noticed early was that the Baby Steps seems to get progressively more challenging. This helps build momentum. It is much easier to save $1000 than to pay off your house early. By starting and taking baby steps, the baby steps themselves actually don't feel very babyish.
Paying off your home early per Baby Step 6 feels much more like a big kid step, but it's still just a Baby Step like the others. It's impressive how Dave structured these baby steps.
4) The Community Around Dave Ramsey Baby Steps Is Incredible
You don't have to look far to realize that the community around Dave Ramsey is incredible. You can take a Financial Peace University class at your local church. These classes are excellent to encourage you and help keep you accountable while you eliminate debt. You'll learn the baby steps inside and out with others in your community.
You can also be a part of a vibrant Dave Ramsey Facebook Community. Personally, I am a part of many of these communities where I receive a ton of encouragement when sharing wins and losses in the process of debt elimination.
There's a lot to love about the Dave Ramsey Baby Step method.
Now, let's cover a few things that could use a refresh.
1) Can Creating A Budget Be Baby Step #1?
I am a budget fanatic. I would love to see a Baby Step dedicated to budgeting. Why? Because budgeting helps you understand where every dollar goes. I used "every dollar" like that on purpose because Dave Ramsey himself created a budget app called EveryDollar for that very purpose.
What better way to understand how much money you have to put towards your emergency fund than starting with a budget.
I am not sure why Dave doesn't start with a budget, but I would be keen to start the Baby Steps with creating one.
2) Dave Ramsey's Emergency Fund May Need A Refresh
Dave Ramsey's emergency fund calls you to save $1,000 in Baby Step 1. Is $1,000 enough? It really depends.
First, adjusted for inflation, $1,000 in 1990 is now worth $2,043.26 per the US Inflation Calculator.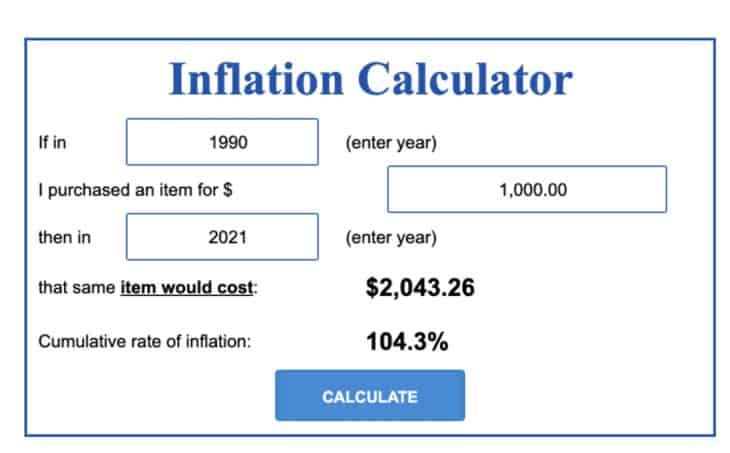 There's a plethora of questions you can ask yourself when considering whether the emergency fund is big enough, such as:
How much debt do you have to pay off?
Do you own a home?
How old is your car?
How many kids do you have?
Do you have insurance?
Another question I like to ask is, "where do you live?". Personally, my family and I live in the Bay Area, California where the cost of living tends to be quite high. $1,000 wouldn't get us very far.
3) Is The Snowball Method The Best Way To Pay Off Debt?
As a refresh, the debt snowball method means that you line up your debts from smallest to largest and pay your monthly extra to your smallest debt first then snowball into higher debts. The debt avalanche method is where you line up your debts from the highest interest rate and use your monthly extra to pay off the highest interest first. The savvy debt method is where you pay off 1-2 of your smallest balances first via snowball before reverting to the avalanche method to save the most in interest.
Dave Ramsey loves the debt snowball method. It has worked for many people, so why wouldn't he? He feels the opposite for the debt avalanche where he mentions that it doesn't work.
The challenge is that you could lose thousands in interest if your smallest debts also have the smallest interest rates. This can be possible because higher debt amounts carry a higher risk to the lenders, meaning potentially higher interest rates.
You can see how much the snowball method loses in comparison through this debt payoff calculator which compares interest paid from snowball to savvy methods. For reference, we are comparing 4 debts: $23,000 at 22%, $18,000 at 19%, $12,000 at 9% and $8,000 at 7% interest rate. The monthly payment is $1,825.00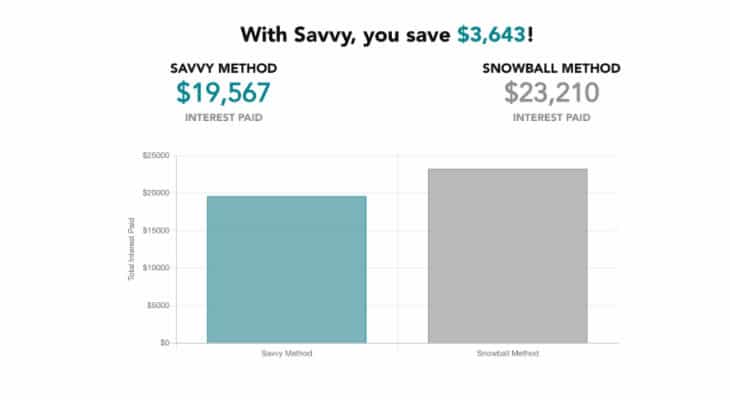 In this example, you would lose over $3,500 in interest by choosing the snowball method.
Does that mean that the snowball method is always worse? Absolutely not. The snowball method may provide the psychological benefit that you need to exterminate your debt.
You choose the debt payoff app and debt payoff method that is best for you.
4) Should You Follow Dave Ramsey's Advice And Pay Off Your House Early Or Invest?
Dave Ramsey loves mutual funds and paying off your home early. My question is what if your mutual funds are making so much more in interest than paying off your home would save you?
Wouldn't the prudent thing be to continue to pay off your home and then get the higher interest from investing in mutual funds? It's not a one size fits all solution, but it is something to consider.
There are also often benefits of not paying off your home early such as interest paid being tax-deductible. That said, you would really need to determine whether you would make more money from mutual funds than saving from interest payments to determine what's best for you.
What Do You Think About The Baby Steps?
The Dave Ramsey Baby Steps have helped thousands around the globe. What do you like about the Baby Steps? Do you agree or disagree with what we would change in 2021?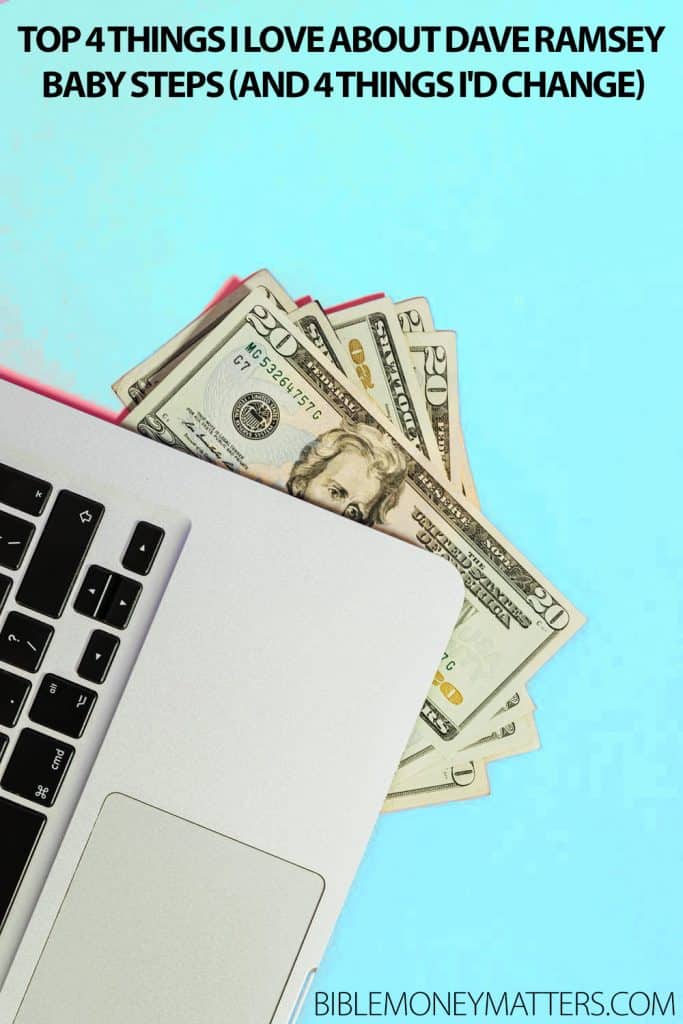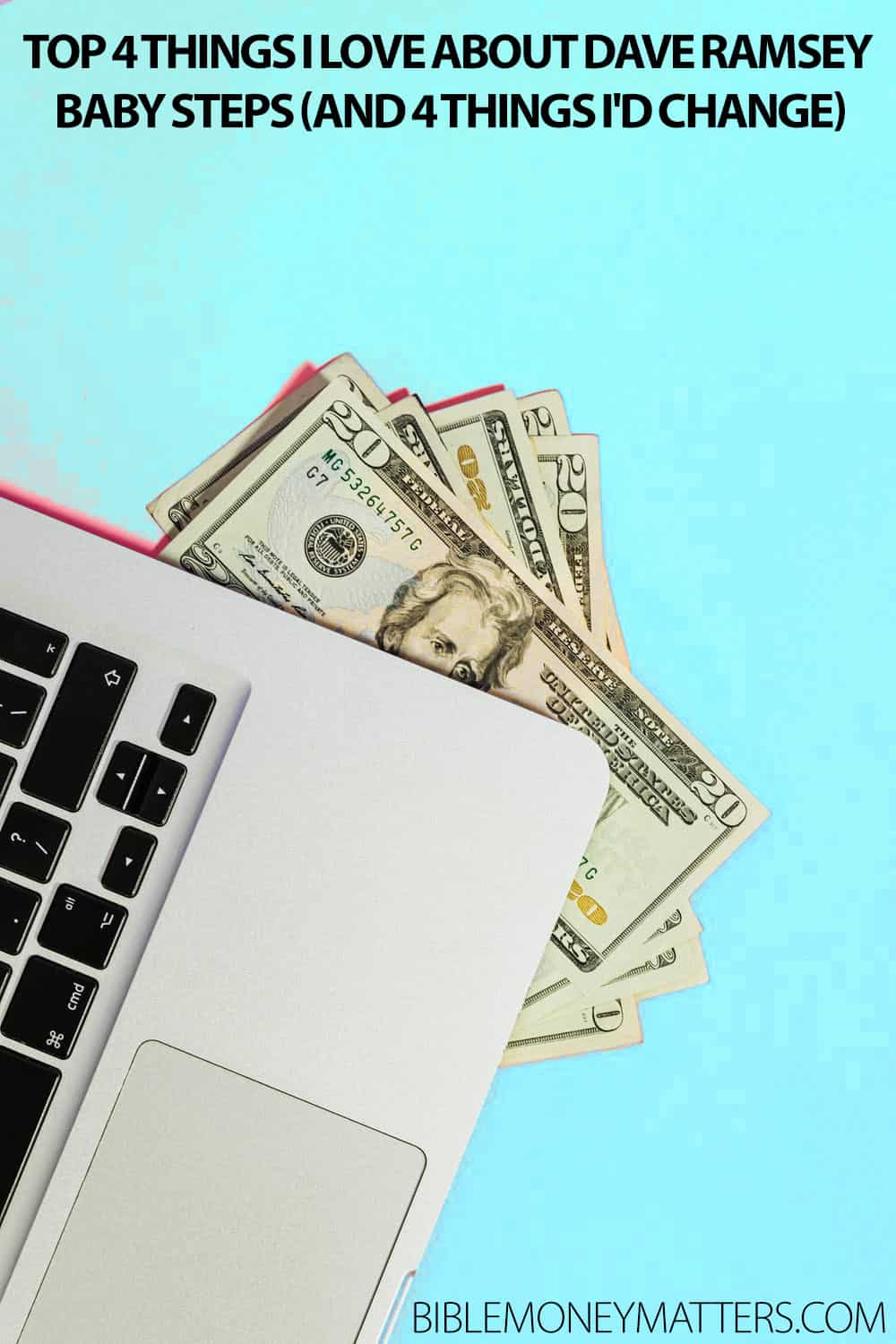 Source: biblemoneymatters.com
It's tough to make any meaningful return on your savings right now.
But you probably already knew that.
Interest rates for bank savings accounts — you do have a savings account, right? — have been notoriously low for years. Don't expect these low rates to change anytime soon, either: In a recent statement, the Federal Reserve announced plans to keep interest rates low until certain economic conditions have been reached.
At this moment, the average interest rates paid on checking and savings accounts are 0.15% and 0.73%, according to BankAround. And the biggest banks often offer worse rates. In fact, if you put $5,000 in a regular Bank of America savings account (0.01%), in a year, you'll only have collected 50 cents in interest.
So, what are your options for making more money on your money?
Check Out High-Yield Savings Accounts
High-yield or high-interest savings accounts are a vehicle for you to save money you don't use for everyday expenses. For example, you might open this type of account to build an emergency fund. In exchange for not using this account often — and typically saving a good amount in it — you're rewarded with a higher interest rate.
This isn't your regular ol' savings account that earns pennies on the dollar. While the average savings account has a 0.06% interest rate, per the FDIC, you can expect to earn more with a high-yield savings account. Sometimes up to 25x more.
Now, rates aren't bonkers-good like they were just a couple years ago. In 2019, an account with My Savings Direct, an online banking division of Emigrant Bank, earned a cool 1.25% annual percentage yield (APY). That rate is now 0.25%.
But hey, more money is more money.
What to Consider When Looking for a High-Yield Savings Accounts
While you'll bring in more than you would in a traditional account, you'll often need to adhere to strict guidelines. So keep that in mind before you sign up.
For instance, you may experience the following:
A required opening deposit.
A minimum required balance at all times.
A cap on how often you can move money out of the account.
Monthly maintenance fees.
Fees for going over the allotted amount of withdrawals a month.
A high interest rate — but only for X months or Y years for a certain amount of money AND if you follow all the rules. A particular rate may only be available for new account holders, too.
With that said, these accounts are a great way to earn more on money you don't plan on touching for sometime — just read the fine print (and maybe brush up on your organizational skills) first.
How to Open a High-Yield Savings Account
Typically, the same rules will apply as for opening any other type of bank account. You'll likely need to be at least 18 years old and need identification, for example. Pretty standard stuff.
You have options on where to open a high-yield savings account, too. They can be found at traditional brick-and-mortar institutions, credit unions and online-only banks. In fact, the latter may offer you higher interest rates since there's less overhead (i.e. no physical location to pay bills for, so the savings get passed on to you). The interest rate may vary depending on where you live.
Bonus: Many companies offer various banking products (loans, checking, etc.), too. So if you want additional services on top of a high-yield savings account, you're in luck.
Our Criteria for Finding the Top High-Yield Savings Accounts for You
We looked at accounts that offered a high APY by today's standards — that means around the 0.50% interest-rate-mark — and low (or no) fees. We included a variety of online-only and big-name accounts to choose from as well.
You don't have to transfer all your banking needs to an institution that offers a high-interest account. You can hang on to your primary bank and have a separate, high-earning savings account elsewhere. But note: Some accounts may require you to open other products with them, so keep that in mind.
The 5 Best High-Yield Savings Accounts
Of course, "the best account" will be determined by your individual wants and needs. If you're highly organized, a stricter but high-paying account could be a good option. And if you're more of a "set it and forget it" type of person, another one on the list might better suit you.
Here are some of our favorite accounts right now.
1. Axos Bank: A High, High-Interest Account
Axos Bank offers an FDIC-insured, high-yield online savings account. You can earn up to 0.61% APY on your money. Here's the lowdown:
You need $250 to open an account.
You can live anywhere in the U.S. (another bonus — you're not tied to any one location).
You can earn up to 0.61% APY on accounts with $0 to $24,999.99 in it (and then it dips to 0.25%)
You can get a free ATM card upon request.
A big one: No monthly balance requirements or maintenance fees.
Axos offers other banking products, such as rewards checking (with a 1.25% APY!), business CDs, small business banking services,commercial lending and more.
Axos is a digital-only bank, so if you prefer a physical branch, see what's available at the big banks and your local credit union.
2. CIT Bank: Low Opening Deposit to Get Started and No Monthly Fees
CIT Bank is another online financial institution. It offers an FDIC-insured Savings Builder account where you can earn up to 0.40% APY. Here's what you need to know:
You only need a $100 minimum opening deposit.
It's a digital bank you can access anywhere online.
You can earn up to 0.40% APY by maintaining a balance of $25,000 or more — or, by making a monthly deposit of $100.
No maintenance fees.
CIT also offers CDs, money market accounts and more.
You can also make six money moves in this account per statement cycle, which is the industry standard.
3. Citi: A Familiar Name with a Top Rate
Citi or Citibank (not to be confused with CIT Bank) is prominent in major cities such as New York City and Chicago. The over 200-year-old financial services group offers an Accelerate High-Yield Savings account. Here's the lowdown:
There's no minimum to open the account.
This account is available in most states and in select markets.
You can earn 0.50% APY on your money with no limit on how much you can earn.
You'll pay a monthly fee of $4.50 unless certain requirements are met.
Citi also offers basic checking and savings accounts, CDs, home lending, IRAs and more.
There are several accounts listed under the Accelerate High-Yield Savings umbrella — from the Citi Elevate Account Package to the Citibank Account package — with slightly different fees and requirements. However, they all share a 0.50% APY.
Worth pointing out: You can only open this high-yield account within an "account package." This means you can't have it as a standalone and will need to open another Citi account.
4. PenFed Credit Union: Membership With Benefits
If you prefer to bank with credit unions, PenFed's Premium Online Savings account could be a good choice for you. This account is federally insured up to $250K by the National Credit Union Administration, or NCUA (basically the FDIC for credit unions). Here's what else you need to know:
You only need $5 to open the account.
There aren't branches in all 50 states, but there are over 85,000 ATMs and anyone in the U.S. can apply for membership (which you need in order to get this account) and access it online.
You can earn 0.45% APY.
No monthly maintenance fee.
PenFed also offers auto loans, credit cards and more.
Contrary to some information online, you do not need to be a member of the military to join.
If you're comfortable banking largely online and want to take advantage of other member benefits from discounts on home security to flower delivery, check out PenFed Credit Union.
5. Marcus by Goldman Sachs: Best for Those Who Don't Want to Touch Their Money and Watch it Grow
Goldman Sachs is a well-known name in financial services. And the bank also offers a solid high-yield savings account known as Marcus (fun fact: Marcus Goldman founded the company). Here's the deal:
You don't need a minimum opening deposit.
The account is open to U.S. residents and easily accessible online or via the Marcus mobile app on the Apple and Google Play stores.
You can earn a competitive rate of 0.50%.
No monthly fees.
Marcus also offers debt consolidation and home improvement loans, the opportunity to manage investment portfolios and more.
With this service, you'll need to fund it with an external account, mail a check, set up a wire or establish direct deposit. Marcus by Goldman Sachs is a solid account if you're looking for a recognized leader that won't ding you with extraneous fees.
Here's a breakdown of these high-yield savings accounts.
| Bank or Financial Institution | Minimum to Open Account | APY | Other Fees |
| --- | --- | --- | --- |
| Axos Bank | $250 | 0.61% | No monthly balance requirements or maintenance fees. |
| CIT Bank | $100 | Up to 0.40% | No monthly maintenance fee. You must have a minimum balance of $25K or a $100 monthly deposit to earn the 0.40% APY. |
| Citi Bank | None | 0.50% | You'll pay a monthly fee of $4.50 (and up, depending on the account type) unless certain qualifications are met. |
| PenFed Credit Union | $5 | 0.45% | No monthly maintenance fee. |
| Marcus by Goldman Sachs | None | 0.50% | No monthly maintenance fee. |
Overall, while these types of accounts don't pull in the rates like they used to, they're still a worthwhile avenue to store and safely grow your money.
Additional High-Interest-Earning Accounts That Can Help You Make More Money
On top of high-yield savings accounts, we found two other types of accounts that will help you bring in more money: rewards checking and debit-card-linked savings accounts.
You'll need to meet a few requirements to qualify for these rates as well, but they'll still give you more bang for your buck.
Rewards Checking Accounts
Rewards checking accounts pay higher interest rates (usually between 1.5%-4%) on your money up to a certain amount. For example, a bank or credit union might offer a 2% APY on accounts capped at $15,000.
Even though they pay higher interest rates, you usually won't find rewards checking accounts on a typical list of the best checking accounts. They're in a category of their own, and you can't simply deposit your money and forget about it; these accounts require a little work and organization.
To take advantage of rewards checking accounts, you might be required to do any of the following:
Have a minimum deposit to open the account.
Keep a required minimum balance at all times.
Pay a monthly maintenance fee.
Hit a certain number of regular deposits or ACH transactions.
Make a fixed number of debit card purchases per month.
Opt into e-statements (paperless statements) or other agreements.
Your interest rates may fluctuate or plateau depending on the amount in your account, as well. But the maximum APY can be pretty significant — more than the current 0.03% average rate for checking accounts in 2021, anyway — so these accounts may be worth it.
For example, Solvay Bank in upstate New York offers 4% APY for its high-interest checking account. Here's the deal:
You must be a new customer.
You must live in specified counties in the State of New York.
You earn this rate for only 12 months.
This rate is available on balances up to $15,000.
You must also follow certain guidelines during each monthly statement cycle:
Enroll in and receive e-statements.
Have at least one direct deposit or ACH transaction.
Make at least 12 debit card purchases.
A minimum deposit of $15 is required, and there's a $5 monthly maintenance fee for the account, though it can be waived.
It's easy enough to click the button to enroll in e-statements, and once you set up direct deposit for your paycheck, it's automatic. If you follow the rules, you can earn a cool $200 a year on a $5,000 balance.
Another example is Guardian Credit Union in Alabama, which offers 4% APY — on balances up to $30K. To qualify for the Guardian Ultimate Checking account, you'll need to:
Live, worship, go to school in or be retired or active Alabama Army or Air National Guard personnel in specified counties in Alabama.
Have 15 posted "swipes" (purchases) a month.
Enroll in e-statements.
Have a minimum payroll deposit of $500 a month.
If you don't meet the requirements (check the website for all of them), you won't receive the perk — and you'll also be hit with a $10 fee.
You can find a list of rewards checking accounts in your state along with current interest rates here.
Savings Accounts Linked to Prepaid Debit Cards
A prepaid debit card allows you to load money onto a card without needing a bank account. It can be a helpful budgeting or learning tool (some parents get them for their kids). Others may prefer using this financial service over a traditional bank account. However, these cards typically come with their own set of rules and fees.
Some prepaid debit cards come with savings accounts. Mango Financial is one such example — and you can earn up to 6.00% APY with Mango Savings.
Here's an overview of how it works:
First, you need to activate and load your Mango debit card.
Then, you can open a savings account with $25.
To qualify for the 6.00% APY, you'll need signature purchases of $1,500 or more and a minimum balance of $25 at the end of the month.
Cardholders are entitled to up to six transfers each month. Also, you can only have one savings account with Mango. You can view a list of fees (for balance inquiries and ATM withdrawals, etc.) here.
Netspend is another prepaid debit card with a savings account option. You'll have to load the card account and then transfer the money to the savings account. From there:
You can earn up to 5.00% APY on $1,000 or less (the APY drops to 0.50% on any higher amount).
You can set up an auto-save function to transfer money every time you load your Netspend card account with funds.
You can transfer money from your savings account to your card up to six times per month.
Again, you want to be mindful of associated fees.
Frequently Asked Questions about High-Yield Savings Accounts
1. Can You Lose Money in a High-Yield Savings Account?
No. As long as your money is in an FDIC-insured high-yield savings account, it's safe.
2. Are High-Yield Savings Accounts Worth It?
If you're looking to save money and have semi-flexible access to it, all while earning a little more interest on it, then yes, a high-yield savings account is worth it. These accounts are ideal places to store an emergency fund, for example — a place where you can safely grow your money, yet access it (typically, via a debit card or transfer it to another bank account) relatively quickly when needed.
3. Where Can I Get 5% Interest on My Money?
High interest rates are harder to come by these days. Rates tend to fall between 0.10% and 1.00% APY. Your mileage — depending on where you live and how much you can put in a high-yield savings account — may vary. If you have a lot of money saved and are open to online-only high-yield savings accounts, then you might get more bang for your buck.
If you're looking to make more on your money regardless of the account type, check out rewards checking accounts and savings accounts linked to prepaid debit cards for more options.
4. Which Bank Has the Highest Yield Savings Account?
Axos Bank, an online-only institution, offers a solid 0.61% APY. Another online bank, CIT Bank, has a 0.40% APY. If you're looking for a more traditional, big-name bank, Citi offers 0.50% APY on your money.
Rates can change, so look around every now and then to see the latest, highest offers.
Earn More Interest on Your Accounts
Of course, it can be tricky to keep track of numerous accounts and their requirements (and to avoid fees). But, that's just the way it is in this low-interest-rate environment.
Pro Tip
Start with the accounts that have simple requirements and options for avoiding all fees.
You have to exercise your organizational skills to make some extra money on your high-yield savings accounts. But the end results can be worth it.
The Penny Hoarder Shop is always stocked with great deals, including technology, subscriptions, courses, kitchenware and more. Check it out today.

Steve Gillman and Kathleen Garvin are contributors to The Penny Hoarder.
Source: thepennyhoarder.com
Sandwiches are great… until they get soggy in a lunchbox, or worse — crushed by a piece of fruit or a book.
If you or your little ones are dreading the thought of heading back to class this fall with simple sandwiches, it's time to free yourself from old lunch-making habits.
No, we're not going to recommend buying lunch every day, unless your school has a tasty (and also inexpensive) lunch program. It's possible to make a delicious, relatively nutritious lunch for just a few dollars a day.
Try these 10 cheap lunch recipes — they each come in at around $5 a serving, and they offer enough variety to satisfy even the picky eaters in your house.
10 Cheap School Lunch Ideas
Get ready: These lunch ideas are going to make you hungry.
1. Lunchbox Kebabs
Christina Hitchcock's lunchbox kebabs are the perfect alternative to tired sandwiches, and the recipe she shares on her blog It's a Keeper is super simple.
Choose your tiny scholar's favorite sandwich fixings, like meat, cheese and veggies, and stick 'em on short skewers inside a plastic container. The components will stay fresh, and you can include a small container of a dip — mustard would be my choice — for mealtime.
What You Need
Black Forest Ham
Cheddar Cheese Slices
Grape Tomatoes
Skewers
Yellow Mustard
2. Cool Apple Quesadillas
For the kid who can't get enough cheese, but honestly needs a few more food groups in their day, these grilled-then-chilled quesadillas from Laura Fuentes of Momables are perfect.
They take a few minutes of prep, but they're worth it. Although designed for a cold lunch, you do cook the quesadilla on the stove like you would at dinnertime. Gotta congeal that cheese.
Fuentes layers on thin-sliced apples and cheese slices, and grills them between eight-inch tortillas. There's a ton of wiggle room here for ingredients — consider switching to a whole-wheat tortilla or switch up the cheese selection for a new flavor combo.
What You Need
Flour Tortillas
Cheese Slices
Granny Smith Apple
3. Polka-Dot Pizza Dippers
Your resident pizza fiend will ask for this easy, cheap lunch day after day. And that's totally doable, because you can prep a whole batch in advance and freeze them until it's time to pack a few pizza dippers.
Simply divide refrigerated biscuit dough as described in the recipe on Coupons.com's The Good Stuff blog, and top with a dab of sauce and a slice of pepperoni. They bake up flaky, and you can season to taste.
What You Need
Refrigerated Biscuit Dough
Pizza Sauce
Pepperoni
4. No-Bake Banana Burritos
Here's a wholesome lunch that requires zero cooking. Promise!
It's a sweet twist on the typical PB&J: a PB&J banana burrito.
Smear peanut butter and jelly on a tortilla, roll up a (peeled, of course) banana in the center, and send it off to school. Banana burritos!
It's easy to swap PB for another type of spread, like sunbutter, if your kids go to a peanut-free school.
Feeling pooped from a long day of parenting? Even smaller students can prepare this lunch on their own.
What You Need
Yellow Bananas
Peanut Butter
Strawberry Preserves
Flour Tortillas
5. The Ultimate Bento Box
If your kid is more of a grazer, stop worrying about packing a meal so much as packing a bunch of snacks they'll be excited to eat at lunchtime. Choose a reusable container with sections to pack four to six different bite-size treats.
It's also a great way to compromise with a kid who has a major sweet tooth but isn't so much into vegetables: pack a sweet treat, sure, but surround it with enough healthier options that it'll all even out.
What You Need
Nike, who runs the blog Choose to Thrive, likes to make her kids' bento boxes look like Lunchables. But here's what I'd put in my ideal box:
Cracker Rounds
Cheddar Cheese Slices
Green Pepper
Grape Tomatoes
The fresh ingredients for this box are more expensive, but remember this is one of the more customizable lunch options. You can substitute other components like a clementine, pretzel sticks, apple slices, a handful of almonds, a hard-boiled egg or even a few cookies.
It's also easy to adjust portion sizes based on your student's appetite.
6. Waffle Sandwiches
Land O Lakes offers this cool recipe that asks you to put sandwich components inside a waffle maker to griddle up some goodness. I say: Let's not work that hard.
To make an easier version of a waffle sandwich, toast up a frozen waffle, cut it in half, and layer on ham and cheese. Then, either microwave these magical sandwich sticks or grill in a pan for a few minutes.
If you're a nice parent, add a small cup of maple syrup for dipping. If you don't care about your child's happiness (and want to stay on the school custodial staff's good side), skip it. The frozen waffles are sweet enough on their own.
You can make a batch of these and freeze them so they'll defrost for junior by lunchtime.
What You Need
Frozen Waffles
Maple Syrup
Black Forest Ham
Cheddar Cheese Slices
7. Yogurt Parfait
If a yogurt parfait seems like a treat best saved for a summer day, it's time to rethink your school-lunch ways. You can whip together this nutritious combo of yogurt, fruit and granola in minutes, and you can prep a few at a time for several days worth of lunches.
What You Need
Vanilla Yogurt
Strawberries
Blackberries
Almond Butter Granola
8. Easy Mac and Cheese Bites
Kids love macaroni and cheese, but this hot dish doesn't keep well in a lunch box. Instead, bake up some mac and cheese bites that you can store in the freezer for a grab-and-go solution.
Pinterest is filled to the brim with "homemade" mac and cheese recipes for these bites, but let's get real. This isn't Sunday dinner. This is a Monday morning when you are bleary-eyed and someone is screaming like a banshee because she can't find her other shoe.
So here's a super simple recipe to try:
To make these zesty bites, simply prepare your favorite boxed mac and cheese as instructed. When you're done, add some extras of your choice to the pot: finely chopped broccoli or spinach sneaks into this lunch pretty easily.
Mix well, pour it all into a mini muffin tin (you may want to grease the pan first), top with parmesan cheese, and bake at 350 degrees for 20-25 minutes. Adjust for your desired crispiness.
Freeze the batch and pull out a few at a time. Send a small container of ketchup to school for dipping.
This recipe makes about 12 in a mini-muffin pan — but you might have some left over for a snack!
What You Need
Macaroni and Cheese
2% Milk
Grated Parmesan Cheese
Frozen Broccoli
Ketchup
9. Ants on a Log
It's time for some early-'90s nostalgia, because you probably forgot all about ants on a log, huh? It's a severely underrated snack, but if you eat enough of them, it totally counts as lunch.
There are many variations on the traditional combo of celery, peanut butter and raisins, so use what your kids are most likely to chow down. Craisins! Cream Cheese! Go crazy.
What You Need
Celery
Peanut Butter
Raisins
10. Corn Dog Muffins
If you have a child who only ever wants to eat hot dogs, here's a way to send them to school without lobbying the PTA to get a grill for the cafeteria.
Whip up some cornbread muffin mix, pour into that handy mini-muffin pan, plop a slice of hot dog into the center of each, and bake according to this simple recipe from One Sassy Momma. Freeze a zip bag of the fruits of your labor and grab a few for lunchbox duty.
If you're feeling extra nice, include a small container of ketchup or mustard for dipping.
What You Need
Corn Muffin Mix
Hot Dogs
2% Milk
Brown Eggs
Lisa Rowan is a former writer at The Penny Hoarder.
Source: thepennyhoarder.com
Back-to-school season comes around the same time every year, but like the holidays, it has a tendency to sneak up on parents — and their bank accounts.
Last year, the National Retail Federation estimated that parents would spend a record average of $789.49 doing back-to-school shopping for children in elementary, middle or high school and about $1,059.20 shopping for college-aged kids. That's a lot of money for pencils and glue (and Macbooks).
If you don't want to get hit off guard with hundreds of dollars in expenses, you've got to plan ahead and be a smart shopper. Here are seven strategies for reining in your back-to-school budget.
7 Tips to Keep Your Back-to-School Budget on Track
These seven tips on creating a back-to-school budget can make shopping a little more bearable.
1. Total Up Everything You Need
Start with the list of requested school supplies provided by your child's teacher or school district. Take inventory of what supplies you already have at home. Go through your kid's dressers and closets to see what clothes and shoes they can still fit into before going out to buy a new wardrobe.
When creating your list, don't forget the costs that aren't obvious. For example, do you need to stock up on masks and hand sanitizer? Will you need to buy uniforms or equipment for sports or other after-school activities? Will your child need a physical before heading back to school?
2. Establish Your Spending Limit
It's important to create a spending limit you're comfortable with and that covers the basics. Going school shopping without a budget will only set you up for overspending.
Once you have your shopping list together, you can start pricing items, even if you don't plan on actually buying anything until closer to the start of the upcoming school year. Create your budget based on regular retail prices rather than current sales. Overestimating your expenses will give you a little wiggle room when it's actually time to shop.
After you've totaled up how much you expect to spend, do you have enough money? If not, you'll have to adjust.
3. Pad Your Back-to-School Shopping Budget
Earning extra money can always provide a little financial stress relief. That holds true for back-to-school season.
Ask your employer about picking up extra shifts or working overtime. Find a temporary side gig, like dog walking, delivering groceries or doing odd jobs via TaskRabbit.
If you have older children, you could have them chip in on a portion of their school expenses — especially if they're asking for pricey, name-brand clothing and school supplies.
Talk to your teens about school shopping expectations. Have them share some of the cost of items that don't fall within your budget.
4. Create a Sinking Fund For School Supplies
A sinking fund is a pool of money that you add to over time to break a large expense into more affordable chunks.

Let's say you've estimated you'll spend $600 for the back-to-school season, and you get paid three times before school starts. Each payday, you should set aside $200 in your sinking fund to cover the upcoming expenses.
If you take money from your existing savings to start the sinking fund now, you can take out less each paycheck.
Setting up a direct deposit or automatic transfer will help you save money in your sinking fund without even thinking about it.
5. Implement Challenges to Save Money
Saving money can be difficult, especially when you don't have much time. Saving challenges can help you put aside more money than you'd think.
If you shop using cash, challenge yourself to save a certain denomination whenever it hits your wallet. Perhaps you save all the $5 bills you get as change.
If you typically pay for things with a debit card, your money-saving challenge could involve rounding up each purchase to the nearest $5 increment and putting that difference toward your school expense savings.
Or try a no-spend challenge. Implement a 30-day freeze on discretionary spending so you have more money to pay for school supplies and related gear.
6. Be a Smart Shopper
Between now and the start of school, you'll encounter enough sales promotions that it'd be foolish to pay full retail price for anything.
In addition to taking advantage of great deals, here are some other smart back-to-school shopping strategies to keep in mind:
The older your children get, the more opinionated they'll probably be about what they want for the new school year. Talk to your kids about the cost of their school supplies and ask what is most important to them.
After identifying a couple select splurge items, find ways to get everything else for less. It's a great way to teach your kids about how to budget.
7. Figure Out Which Expenses You Can Delay
You don't always have to buy everything in time for the first day.
Your kids may not need new clothes right away, especially if the weather is still warm and they don't have to wear fall clothes yet.
If you can, hold off a few weeks or more on buying the "fun" supplies, like new backpacks and lunchboxes. Retailers often will have great discounts after the back-to-school rush has died down and they are trying to get rid of that merchandise.
Nicole Dow is a senior writer at The Penny Hoarder.
<!–
–>
---
---
Source: thepennyhoarder.com
The credit score: a deceptively simple three-digit number that can dictate or impact your financial life in a variety of meaningful ways, from being able to rent a home or open a utility account to whether or not you are approved for a credit card or which mortgage rate you qualify for. Given their importance in the American financial system, it makes sense that understanding and improving your credit score is a goal for many. But it's easy to get intimidated or disheartened by what can seem like wide discrepancies or inexplicable changes in that score. What drives this? Let's dig in a little to break down differences in your credit scores and why they exist.
NO ONE CORRECT SCORE
First, crucially: contrary to what many believe, there is no ONE, individual correct credit score for an individual. Everyone has a variety of different scores at any given time, given the many different factors that make up your various scores. Let's break down the different components that can affect your credit score, the credit bureau data, the credit scoring model and version, and how your score gets updated.
The credit bureau data being utilized
Behind every credit score is a credit report, a set of historical data on your past credit and lending activity. This includes credit accounts (both open and closed), your payment history for each, and any negative marks, which could include late or missed payments, collections, or charged-off and closed accounts. The three main providers of credit reports in the US are Experian, Equifax, and TransUnion.
While many customers may see their credit reports looking quite similar across the three bureaus, they can differ. If past lenders have sent your application, account, or payment data to only one or two of the three main bureaus, that data may differ in a way that could meaningfully impact your score.
You can access your TransUnion credit report for free on Mint, as well as being entitled to one free credit report per bureau per year via www.annualcreditreport.com.
The credit score model
A credit score model applies an algorithm to the underlying credit report data, resulting in that famous three-digit score. There are two main credit score models currently widely available in the US: FICO and VantageScore. We'll dig into the major differences below in just a minute!
The model version
Adding to the complexity, both major model providers have different versions of their scoring models, which can significantly impact the score output!
FICO offers different models for mortgage, auto, and credit decisions. For the credit versions, which lenders are likely to use for products like credit cards and personal loans, the most recent model version is FICO Score 9.
VantageScore recently rolled out VantageScore 4.0, following its successful 3.0 model.
The dates of recent updates
Lastly, the date(s) on which your lenders send updates to the credit bureaus, as well as the dates on which your score is refreshed, can impact your score temporarily. A credit score, at least for now, is a point-in-time snapshot of your credit risk versus a real-time update.
Generally, lenders send an update with your outstanding balance and updated payment record to the credit bureaus about once every ~30 days. Imagine you do a bunch of holiday shopping one day and nearly max out your credit card, and the next day your lender updates the bureaus with your high balance. Your next credit score update may drop due to higher utilization, even if you paid it off a few days later. Not to worry: this should be resolved with the next update after your balance is paid off.
Additionally, the date your credit score is updated will impact whether or not recently received updates have yet to be factored into your score.
In summary: your score can fluctuate, sometimes significantly depending on your available credit and your balances/outstanding debt at the point in time that updates are sent to the lender. Making multiple payments per month, especially after large purchases, can help reduce these swings.
Now that you understand why it's possible to have a large variety of credit scores at once, let's dig into the differences between the main models.
WHAT IS THE VANTAGESCORE MODEL?
The VantageScore model was founded in 2006 in partnership between the three major credit bureaus, with the goal of introducing competition to the credit score market and expanding access to credit for consumers underserved by traditional credit models. While the new VantageScore 4.0 just rolled out, Mint, Credit Karma, and many other companies are providing millions of consumers with access to their free TransUnion 3.0 credit score.
The main factors in your VantageScore 3.0 credit score are:
Payment history: about 40%

Credit age and mix: about 21%

Credit utilization: about 20%

Balances: about 11%

Recent credit applications: about 5%

Available credit: about 3%
DIFFERENCES FROM FICO
There are many similarities between the VantageScore and FICO scoring models. Both score consumers on a 300-850 scale, and both place the highest importance on payment history and credit utilization as the strongest predictors of credit risk.
In general, FICO credit models group your credit report data into five categories, with the following weight:
Payment history (35%)

Amounts owed (30%)

Length of credit history (15%)

New credit (10%)

Credit mix (10%)
While the components of both credit scoring models are similar, the weighting differs slightly, along with some other aspects of the score. Those with limited credit history may find that they don't have a FICO score, but do have a VantageScore: while FICO requires six months of credit history to establish a score, a VantageScore may be generated with as little as one month of data.
For those who have accounts formerly in collections that have been paid off in full, VantageScore will prove more forgiving: VantageScore ignores paid off accounts in collections in the computed credit score, unlike most versions of the FICO scoring models. The newest model, FICO 9, will similarly be ignoring those paid-off accounts.
SUMMARY
While credit scores – and, specifically, the numerous different scores you may encounter – can be confusing, they are an incredibly helpful tool to understand your own financial health and indicators that may play a role in determining whether you will be granted access to new credit from a lender. As securing credit can play a major role in significant life goals for many people, whether buying a car, a home, or financing education, it's important to understand your score and how you can improve it. To see your score on Mint and receive personalized insights take a look here!
Learn more about security
Source: mint.intuit.com